Check calibration and levels of noise before performing Wenner Four-Electrode (ASTM G57) or other 1D/VES/Manual Soundings
Perform Important Tests:
1) Reciprocal Test
Perform at least one reciprocal swap test when the reels are at the greatest spacing that will be used. This checks the wire, connectors, and field site noise levels. Operators can do the connector swap at the SuperSting face plate or Adapter Box by simply swapping wire positions, as shown below. The normal vs. reciprocal resistance values (V/I) should vary by no more than 10%. A low contact resistance from firmly installed stakes with about 1 cup (250 ml) of 2% salt solution or water added will perform better.
A=C1, B=C2, M=P1, N=P2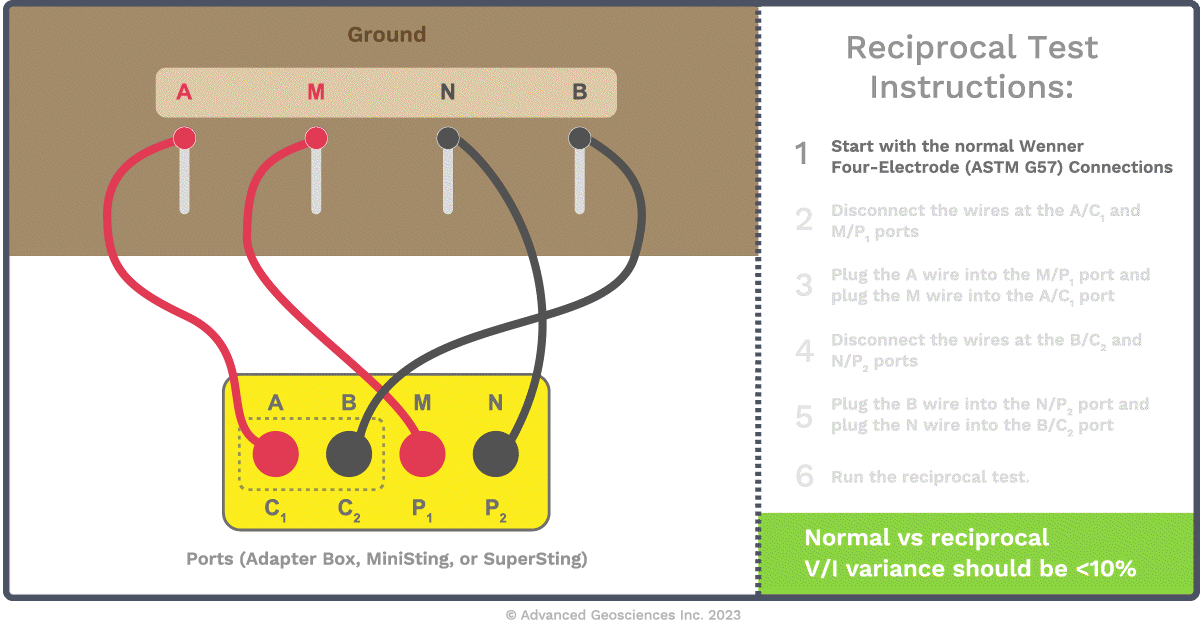 Reciprocal Test Steps:
Start with the normal Wenner Four-Electrode (ASTM G57) connections

Disconnect the wires at the A/C1 and M/P1 ports
Plug the A wire into the M/P1 port and then plug the M wire into the A/C1 port
Disconnect the wires at the B/C2 and N/P2 ports
Plug the B wire into the N/P2 port and then plug the N wire into the B/C2 port
Run the reciprocal test
Check that your normal vs. reciprocal V/I variance is <10%


2) Perform a Receiver Test from one of these links:
How to Run Wenner 4 Pin Test on SuperSting™
How do I perform the Wenner Four-Electrode Method using my MiniSting™?