Watch the short video below to learn how to power your SuperSting™ using the AC/DC Power Supply.
Once your connections are made, we recommend isolating the SuperSting™, Power Supplies, and SwitchBox from the earth before using. You can do this by putting the instruments on top of a pelican case, or any other sturdy non-conductive item.
At minimum, the main power supply must be used. It is recommended to use both main and boost at all times so that maximum power is available if needed when auto-ranging. Two generator power supplies allows the full 200W maximum output (Boost Mode). One supply will power on the instrument in Main mode (100W maximum output).
Note: The video demonstration uses older models of the SuperSting™ Power Supply. The newer model, pictured below, only has one port.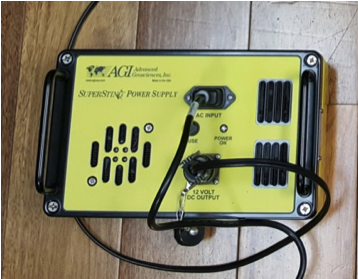 Regardless of if you're using main mode or boost mode, the SuperSting™ Generator Power supplies require a 900W generator. The Honda 1000iu is a popular choice.
The default voltage for shipments within the USA is 110V/60Hz. For countries outside of the USA, the default is 230V/60Hz. If you need to use the AGI Generator Power Supplies with a different voltage, please contact AGI.
Important Notes: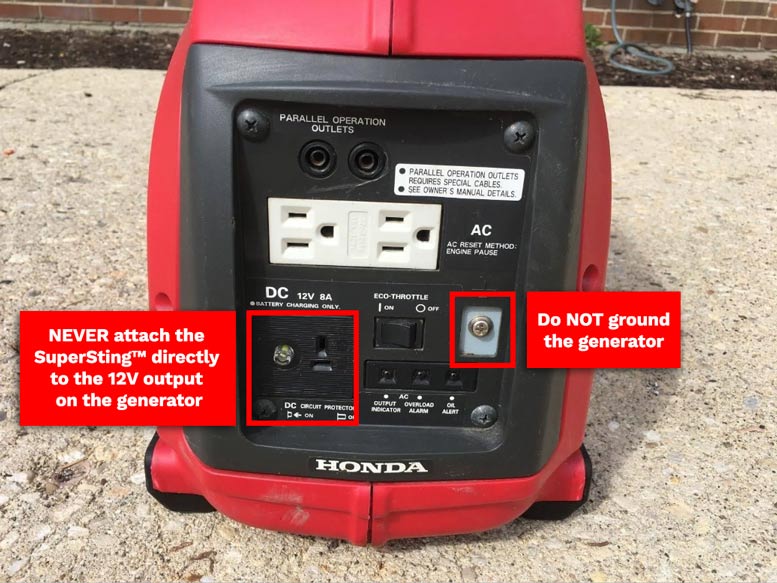 The 900W generator needs to be ungrounded. Make sure nothing except the SuperSting™ Power Supply is plugged into the generator. The SuperSting™ will then be isolated from ground loops and have the required floating type ground.
NEVER attach the SuperSting™ battery cables directly to the 12V output on a generator! This can damage the instrument because these outputs do not have the proper specifications to run the SuperSting™.
Off-the-shelf 12V power inverters need to be avoided as well because they can also damage the instrument and produce noise.